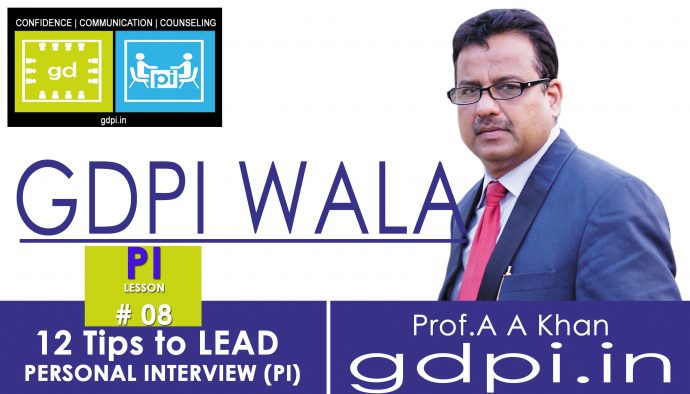 PI Lesson #8
12 TIPS TO LEAD AN INTERVIEW
ENTHUSIASM
BE BRIEF
DON'T BLUFF
HUMOUR
INTERVIEWER FATIGUE
BE WELL MANNERED
AVOID SLANG
BE POISED
ASK QUESTIONS IF NECESSARY
EYE CONTACT
LISTEN CAREFULLY
BE NATURAL
 TO LEAD THE INTERVIEW:
A good interviewee would be quick to settle down and begin to lead the interviewers.
ENTHUSIASM :
The interviewer normally pays more attention if you display enthusiasm in whatever you say.This enthusiasm comes across in the energetic way you put forward your ideas.You should maintain a cheerful disposition throughout the interview;a pleasant countenance holds interviewers' interest.
BE BRIEF:
Brevity is the hallmark of a good communicator. It is recommended that you volunteer information but this must be done in a lucid and to the point manner. An over talkative person is instantly disliked and misjudged.
DON'T BLUFF:
If you do not know the answer to a question, it is better to acknowledge it, rather than trying to bluff your way through it. The interviewer will respect your honesty.
HUMOR:
A little humor or wit thrown in the discussion occasionally enables the interviewer to look at the pleasant side of your personality. If it does not come naturally do not contrive it.
INTERVIEWER FATIGUE :
Mostly, interviews are conducted the whole day leading to fatigued minds. If you do not have the knack of humor, it is better not to get into it.
BE WELL MANNERED :
The way you conduct yourself reflects your upbringing and your culture. Overconfidence is often misinterpreted as arrogance.
AVOID SLANG :
During an interview, slang will probably not be understood and certainly not appreciated
BE POISED:
Your posture during the interview adds to or diminishes your personality. You should keep all certificates, testimonials and other relevant documents neatly on the table, preferably in a single file. Mannerisms such as playing with your tie, shaking the legs or sitting with arms slung over the back of the adjoining chair must be avoided. It is vital to be conscious of your posture and gesticulation as they tell a lot about your personality.
ASK QUESTIONS IF NECESSARY:
Many interviewers believe that an interview is a one way street. You may ask the question / clarify information if necessary. It is quite in order and much appreciated by interviews.
EYE CONTACT:
You must maintain eye contact with the panel right through the interview. This shows your confidence and honesty. The value of eye contact is tremendous in making a personal impact.
LISTEN CAREFULLY:
If the question is not clear, it would be quite in order for you to see clarification on the same. Seeking a clarification is far better than giving an irrelevant answer.
BE NATURAL:
Interviewers appreciate a natural person rather than an actor. It is best to talk in the natural manner because then you appear genuine.